Modern Dental
(208) 333-9999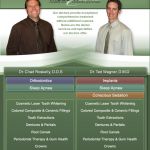 dental sleep clinic
2031 E Hospitality Ln Ste 100
ID, Boise 83716
Office hours
| | |
| --- | --- |
| Monday | 8:00 AM - 5:00 PM |
| Tuesday | 8:00 AM - 6:00 PM |
| Wednesday | 8:00 AM - 6:00 PM |
| Thursday | 8:00 AM - 6:00 PM |
| Friday | 8:00 AM - 2:00 PM |
About us
Modern Dental is not your average dental practice, but then again, Ted Wagner and Travis Royce are not your average dentists. Their unconventional, down-to-earth style not only endears patients to them, but makes for a truly unique experience. When they started the practice, they wanted to deliver three things: comfort, integrity, and the latest technology and techniques.
Modern Dental has built a practice on the philosophy that people should be treated as guests, not patients. Also, it is their belief that some of current clinical dentistry is behind the times and that the latest techniques not only offered a faster result, but they are also more comfortable and cost effective.
Modern Dental was created in 1997 based on philosophies in patient care and the response was amazing. Modern Dental became one of the fastest growing insurance-independent start-ups in the country. So much so that he has been sought after as a lecturer and author on practice management and cosmetic dentistry.
Today, Modern Dental's focus is on providing one of the most comfortable experiences possible. If you have to wait more than 10 minutes in the waiting room, you receive a gift certificate to a local restaurant, tickets to the movies, an oil change or a car wash. In addition to TVs on the ceiling above every chair, they use smaller needles, the best topical anesthetics available, and gentle lasers to remove tissue. They even warm the anesthetic to body temperature before use and avoid putting people completely under for surgical work for faster recovery times.
What really sets Modern Dental apart from every other dentist is their philosophy of complete care, completely guaranteed. Drs. Wagner and Royce have made it their life work to study the latest techniques in dentistry, accumulating 5-7 times the continuing education hours required to maintain their license. The result is that they are general dentists able to perform most services all from one location, including cosmetic dentistry, orthodontics, dental implants, and other surgery. In addition all work is 100% guaranteed. Should anything happen to your dental work, in most cases Modern Dental will repair or replace the work at no cost to you.
Finally, there is a dental practice that is designed to fit your family lifestyle and needs. Come experience the most comfortable time you have had in a dental chair. Experience our complete care, completely guaranteed. Experience Modern Dental.
Contact us
Modern Dental
2031 E. Hospitality Ln.
Boise, Idaho 83716
(208) 333-9999
Service we offer
Dental Cleaning
Good oral hygiene is important, not only for looks, but for general health as well. Poor oral hygiene can lead to a variety of dental and medical problems such as gum disease, infection, bone loss, heart disease, strokes and more. Regular check ups and cleanings can prevent these problems as well as provide you with good oral hygiene.
Dental Implants
Think of a tooth replacement option that is permanent, has a 97% success rate, appears and functions nearly identical to a natural tooth and helps to maintain the gums and bone of the surrounding area. You are thinking of a Dental Implant. Technology has increased and improved the options for tooth replacement and also minimized the inconvenience.
Dental Insurance
In order to keep dental premiums competitive, you may see more dental services excluded from benefit plans. When dental services are not covered by a dental plan patients often assume the dental office billed incorrectly, or worse yet, provided unnecessary services. This can put a dental office in an awkward position of having to defend dental treatment that was done with the patient\'s oral health in mind. Unfortunately, when dental plans deny payment for services provided, patients tend to feel like you did treatment to them instead of for them.
Orthodontics
The benefits of braces and straight teeth can be much more than esthetic. Straight teeth are easier to keep clean and stain free, however research indicates that proper jaw alignment can also improve air flow and blood oxygenation, which in turn can improve rest while sleeping. Some research indicates that this improved blood oxygenation may promote proper production of hormones that effect growth and even night time bladder control in children.
Makeover Dentistry
Modern technology has made it possible to improve ones smile in so many ways from inexpensive whitening to elegant veneers. A smile truly is the window to your personality and possibly your success. Consider some ways to make that window a better reflection of what\'s inside.
Dentures
People say "I can't go to the dentist except for emergencies because I don't have insurance." -Do you realize that a filling often costs less than an emergency visit. Usually it is less expensive to take care of your teeth than to have them pulled and replaced with false teeth. Extractions and dentures will cost more than $5000 today. Just think of the care you could receive for that same $5000 dollars!