Sleep Health Center at Alice Peck Day Memorial Hospital
(603) 448-7436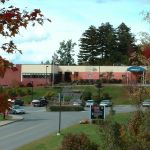 sleep lab
125 Mascoma Street Building 17 Unit D
NH, Lebanon 03766
About us
The Sleep Health Center, a department of Alice Peck Day Memorial Hospital,
strives for quality testing and treatment at our facility while maintaining
excellent patient care. Serving New Hampshire and Vermont since 1996. The
Sleep Center currently has a three-bed facility dedicated to the treatment
of Sleep Disorders including but not limited to sleep disordered
breathing,insomnia, restless leg syndrome and circadian rhythm disorders.
Continuing education on Sleep Disorders is important to us here at the Sleep
Health Center. We provide an opportunity for patients to meet and discuss
nutritional issues, treatment options, and other health care issues related
to sleep disorders at the Upper Valley A.W.A.K.E. Support Group that is
coordinated here at the hospital. For information on when meetings are held,
call 603-448-7436 or email us at UVA@apdmh.org